Saw Kerf - Woodworking And Carpentry
A saw kerf is a word used to describe an incomplete saw cut. The picture below provides you with an excellent example of a cut made by a saw that was left on the stair stringer. A saw kerf can also be used for marking and creating a drip edge for the bottom of an exterior stair tread.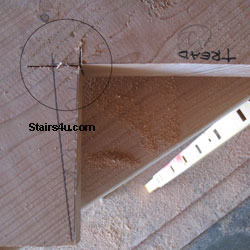 Using Saw Kerfs to Create A Stair Tread Pocket
Even though I would prefer to use a pattern and a router, a stair tread pocket can also be created by using a circular saw. They can be made by using repetitive cuts in parallel lines.

For Example: After you have laid out your stair stringer and have all of your stair tread pockets in the right location. You can use the circular saw to cut parallel grooves to the desired depth, inside of the stair tread pocket area.

Make sure that you don't over cut or gouge the stair stringers in any way. By cutting these slots into them, you're already reducing its strength. Only cut the minimum required to slip your stair treads into them and no more.

Carpenters have been using saw kerfs for centuries and will probably be using them well into the future. Before you ever plan on cutting a kerf into a board or other building materials, make sure that you have read and understand the manufacturer's operation instructions.

Cutting saw kerfs can be dangerous and should only be done by someone who has enough experience. If you have to ask the question," How much experience do I need," you probably shouldn't be doing it.
Stairs
/
Stair Glossary
A
B
C
D
E
F
G
H
I
J
K
L
M
N
O
P
Q
R
S
T
U
V
W
X
Y
Z