Shim - Wood Wedge For Building Stairs
Shims are used to provide additional support between door jambs, structural framing members and are often referred to as wedges. The picture below provides you with an excellent example of shims that are being used to adjust the center stair stringer.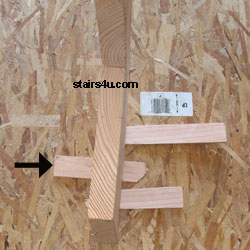 Don't Throw Your Old Wood Shingles Away
When I first started working in construction, there were still plenty of roofs that were built using wood shingles and it wasn't hard to find them, laying around the job site. It also wasn't uncommon to find carpenters with a bucket of wood shims in their vehicles, made from leftover roofing shingles.
Make Your Own Wood Shims
The shims in the picture above were created with a circular saw and a couple of scrap pieces of wood. You can also set up your table saw or radial arm saw to cut your own shims, also. If you are planning on making your own shims, try to find a board that doesn't have any knots or small ones.
Problems Using Wood Shims
I've seen wood shims shrink, loosen up and fall out of their original positions. To prevent this from happening, make sure that you glue, screw or nail your shims into place, to limit their movement.

I don't advise using hardwoods for shims, because they're too hard to break and often difficult to nail or screw into. Redwood, cedar and pine, will provide you with excellent wood shims.
Stairs
/
Stair Glossary
A
B
C
D
E
F
G
H
I
J
K
L
M
N
O
P
Q
R
S
T
U
V
W
X
Y
Z