Shoe Rail - Wood Stairway Trim
A shoe rail is a small piece of wood trim that is usually used at the bottom of the baseboard to cover flooring. Shoe rail can also be referred to as "Shoe, Shoe Trim and Shoe Molding." It comes in a variety of different sizes and is made out of different building materials.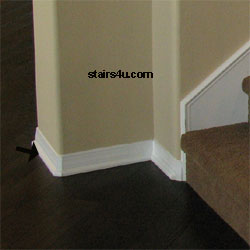 What Is Shoe Railing Used For?
Shoe railing can be used for a variety of different things in the construction industry, but it's mainly used to cover any gaps, from the installation of flooring.

For Example: If you were going to install a linoleum floor, it would be extremely difficult for the floor installer to cut the flooring perfectly, up against the existing floor trim. Shoe railing can be easily removed and replaced, by the next flooring installer, when it's finally time to replace your floor.
Where Would I Use Shoe Rail On A Set of Stairs?
You would be surprised at how many places on your stairway or handrailing, you could actually use shoe molding. You can use it on top of your skirt board, underneath your open stair skirt board, top and bottom of risers and even on the edge of your stair treads.

It wouldn't be a good idea to use shoe railing as a step nosing, by nailing it, to the front of a stair tread. Over time it would probably weaken, crack and fall off. The stair nosing is usually stepped on, by every person, walking up or down the stairway.

Stair tread nosing should be routered or cut out of a solid piece of lumber to prevent problems like these from happening in the future.
Stairs
/
Stair Glossary
A
B
C
D
E
F
G
H
I
J
K
L
M
N
O
P
Q
R
S
T
U
V
W
X
Y
Z