Slope - Stairway Angles
The slope is the angle of the stairway. The example below provides you with a method for figuring out what the slope would be if measured in degrees. Stairways with higher slopes will normally be harder to use than ones with lower slopes.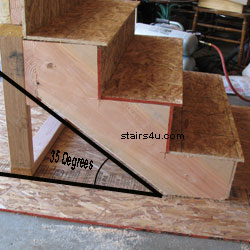 Lower Slope Stairs Vs. Higher Angle Stairways
In order to create a low stairway angle, you will need to have a long stair tread and small risers. For example, a stairway with a 24 inch stair tread and a 4 inch riser, would be less than 10°.

These stairs are normally going to be easier to walk up and down, but sometimes take more effort, because they can be awkward. Someone with large steps, could have a difficult time, because each step is going to be placed in an uncomfortable spot.

Higher stairway slopes are harder to climb, but gets you to your ultimate destination, much faster. A stairway with a 8 inch riser and a 9 inch tread, will require constant attention, while using them.

Steeper slopes often provide people who fall with a longer distances to slide, because of the steep angle. If you fall down on a set of stairs with less than a 10° angle, you're probably not going to fall any further down the stairway.

As a general rule of thumb stair designers will often refer to the 17 1/2 inch rule. If you're stairway meets these design requirements, you'll probably have a comfortable set of stairs for almost everyone to walk up and down.
Stairs
/
Stair Glossary
A
B
C
D
E
F
G
H
I
J
K
L
M
N
O
P
Q
R
S
T
U
V
W
X
Y
Z