Spindle - Baluster And Handrailing
A spindle is another word used by construction workers when referring to a handrail baluster. You can also refer to a spindle as a picket. Spindles are used to prevent people from falling through the guard railing or handrails. The picture below provides you with an excellent example of a cast iron staircase handrailing spindle.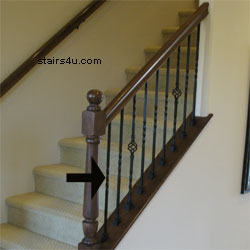 Spindle Placement And Building Codes
Make sure that you understand your local building codes, before you ever plan on building a handrail for your stairway. In order for most handrails to meet building and safety requirements, you shouldn't be able to pass a 4 inch round sphere through any part of the stairway handrail system.

In order to accomplish this task, you might need to install more spindles than you originally planned.
What Happens If I Didn't Know About The Building Code Requirements For Spindles?
Don't worry about it, ignorance isn't a big deal in the building industry," Not." I will tell you exactly what's going to happen, you will need to remove, repair or replace the spindles until you have met your building inspectors approval.

One time I was working for a home builder who made this mistake and you get to benefit from it. I learned my lesson from him and now you can learn your lesson from me. Make sure that you understand and follow your local building and safety codes, otherwise you will be contributing lots of money, to the dumb fund.
Stairs
/
Stair Glossary
A
B
C
D
E
F
G
H
I
J
K
L
M
N
O
P
Q
R
S
T
U
V
W
X
Y
Z