Spline Joint - Wood Carpentry And Stairs
A spline joint is used to join two pieces of wood together, using a thin piece of wood, referred to as the spine. The picture below provides you with a pretty good idea, how to join two pieces of wood together, using a spline, along with a couple of grooves that were cut into each board.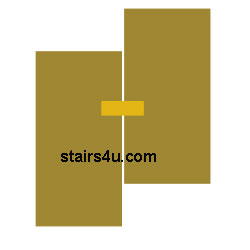 Spline joints are often created by a router or saw and these joints can definitely vary in size. I actually used a power tool called a Biscuit Jointer to cut spline joints into pieces of wood that I was planning on joining together.

The Biscuit Jointer would cut a slot or groove into each side of the board and and then you would insert an oval-shaped spline (often referred to as a wood biscuit), into each groove, to join the two boards together, creating a spline joint.

This was one of my favorite tools and I used it for gluing large tabletops together and cabinet door frames. They're easy to use and the biscuits or splines are relatively inexpensive purchase.
Stairs
/
Stair Glossary
A
B
C
D
E
F
G
H
I
J
K
L
M
N
O
P
Q
R
S
T
U
V
W
X
Y
Z