Split Landing - Stairway Construction And Design
A split landing is one landing with two different levels. The picture below provides you with an excellent example of a split landing stairway. The difference between the two landings is usually the same distance used for the stair risers.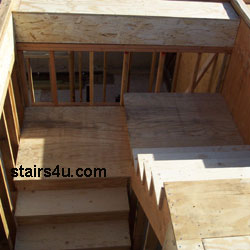 Split landings can reduce the length of a stairway by one step. You're probably thinking, big deal, what's one step, but when you're dealing with tight spaces, it might be the only way to build that particular stairway.

A few years ago I was working on a small home that had some big problems with the stairs. The architect had an incorrect measurement, for the length of the stairs and it wasn't going to meet the city building code requirements, if we built it, according to the building blueprints..

An instant solution to the problem was to change the flat landing to a split landing, even though the owner of the property wasn't going to run it through the Building Department again. Any changes you make to a building, need to be approved by the proper authorities, including the Building and Safety Department.

I can't tell you how many times I added a step to a landing to solve problems with poorly designed stairs and buildings.

There are a few problems that I would like to warn you about though, with these types of landings. There are plenty of people who have poor vision, suffer from color blindness and often trip or stumble, because they actually can't see the change in elevation.

Even though they look neat, if I was going to design a stairway I wouldn't use a split landing, unless it was absolutely necessary, for that reason alone. I even stumbled over them myself, while building homes.
Stairs
/
Stair Glossary
A
B
C
D
E
F
G
H
I
J
K
L
M
N
O
P
Q
R
S
T
U
V
W
X
Y
Z