Squeaking Stairs - Home Problems
Squeaking stairs would refer to any stairways that make noise or squeak. Hopefully the stairs only squeak while people are walking up and down them, otherwise we could have some serious structural problems or even ghosts in the building. The illustration below provides you with the most common reason why stairs squeak.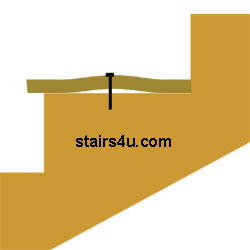 When lumber gets wet it expands and then, when it dries, it shrinks and this usually creates problems for almost any type of stairway, built of wood. I've seen a 2 x 12 shrink almost a half inch, in a matter of months.

When this happens, it usually creates problems for other parts of the stairway that aren't going to be shrinking. Plywood and Oriented Strand Board, rarely shrink, while they're drying out, because they're already, relatively dry.

If you're going to use 2 x 12 for your stair stringers and plywood for your treads and risers, you could be setting yourself up for a noisy stairway. As the stair stringers shrink, they usually pull away from the plywood and if the gap between the stringer and the plywood gets to big, it won't be long, before this sound starts to drive you batty.

This is where the squeaking stairs become a problem. If you have the gap between the plywood stair treads and the top of the stair stringer and you step onto this individual tread. It will usually move down while you're standing on it and move back up, as soon as you take your foot off of it. As the stair tread moves up and down, it will rub against the nail, creating the squeak.

There are other things that caused squeaking stairs, but this is probably the number one reason why most stairs squeak.
Stairs
/
Stair Glossary
A
B
C
D
E
F
G
H
I
J
K
L
M
N
O
P
Q
R
S
T
U
V
W
X
Y
Z