Stair Gauges - House Framing Tools
Stair gauges look like two small nuts with a bolt sticking out of the top and attach to framing squares to aid carpenters while laying out roof rafters, stair stringers and repetitive angles. The picture below provides you with two stair gauges attached to a framing square, while laying out a stair stringer.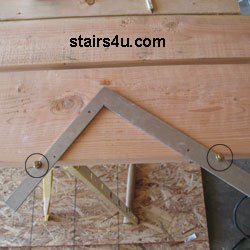 The Original Stair Gauge
You're probably not going to believe this, but the original stair gauge was actually a nut with a slot cut in it, so that it would slide over a framing square. We had small bolts that went about a third of the way into the nut that we used to attach it to the framing square.

If you look at stair gauges today, you could easily see how they could have been made, from of a small nut and bolt. Most stair gauges are made out of brass and I think the only reason they do that is to give you the illusion that you're getting something for your money.
Losing Stair Gauges
I've probably bought at least 20 stair gauges and currently have three. Where did they all go? Let's face it, these tools are small and easy to lose.

My solution to the problem was to eventually purchase a plastic tool box that I could store a few of these tools in. Eventually I purchased more of these plastic boxes and organized my tools.

Stair gauges are relatively inexpensive and can make all the difference in the world, when laying out a stair stringer. Even if you're only building one stairway, these little guys are worth the investment.
Stairs
/
Stair Glossary
A
B
C
D
E
F
G
H
I
J
K
L
M
N
O
P
Q
R
S
T
U
V
W
X
Y
Z