Stair Horses - Building Stairways
Stair horse is just another word used when referring to stair stringers. I don't know where the word came from, but I worked with a few carpenters who often referred to stair stringers as carriages or horses. The picture below provides you with an excellent example of an individual stair horse.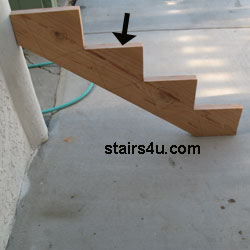 Always Double Check Stair Horse Measurements
Whenever you're laying out a stair horse you should double check and verify as many measurements as you possibly can, before actually cutting anything. As lumber prices increase, construction mistakes will also.

After your stair horse is laid out and you feel comfortable with cutting it, make sure that you cut it as accurately as you can. Any variations in the stair horse will create problems, in the stairway.
After The Stair Horses Is Cut
After you have cut your first stair horse, place it into its installation position, to verify that everything is going to work correctly. If there are any adjustments that need to be made, this would be the time to make them.

Remember the old saying, "Measure Once and Cut Twice," well we need to change that to," Measure Twice and Cut Once." Of course I was just kidding around, with the first statement, but we do need to double check as many of our measurements as we possibly can, in order to reduce waste and wasted time.
Stairs
/
Stair Glossary
A
B
C
D
E
F
G
H
I
J
K
L
M
N
O
P
Q
R
S
T
U
V
W
X
Y
Z