Stair Kits - Package Stairway Construction
Stair kits would consist of a pre-manufactured package of stair parts that could be used to assemble a stairway. Most stairways are cut and assembled on the job site, using construction standard building materials. The most common stair kits available today are used for spiral stairs.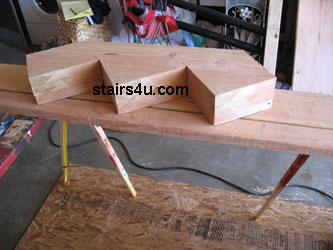 Why Don't Stair Builders Use Stair Kits?
It's called diversity, stairs are difficult to manufacturer in the same way that someone could make computers, pencils or telephones. You can build the same telephone and sell it to millions of people, but that would be hard to do with a set of stairs.

There are thousands of different types of stairways built all over the world and to create a kit for each one, would create a lot of problems for any business. Could you imagine storing thousands of different stair kits in one building?

It wouldn't be difficult to store over a thousand telephones in the space of your average closet, but you could only store a few stair kits, in the same space. If there was some money to be made, creating different stair kits, someone would have done it by now.
Spiral Stair Kits
If you're planning on building a spiral staircase, these can usually be ordered and assembled, directly out of the box. There are plenty of spiral stairway manufacturers that will provide you with everything you need to construct one of these beautiful stairways, in your home or building.
Stairs
/
Stair Glossary
A
B
C
D
E
F
G
H
I
J
K
L
M
N
O
P
Q
R
S
T
U
V
W
X
Y
Z