Stairway
A stairway is another word used by construction workers to describe a set of stairs. A set of stairs is a series of steps that you will use to reach a destination or another level. The picture below provides you with an excellent example of a stairway.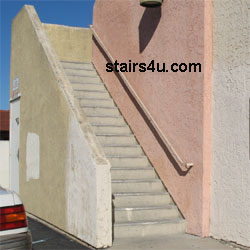 Stairway Safety Tips
If you're planning on walking up or down a set of stairs, make sure that you're cautious, paying attention and holding on to the handrailing. I know that sounds simple, but it's hard to imagine how many accidents happen each year, because someone slipped and fell down, a perfectly safe stairway.

If you're going to carry things up the stairs and avoid holding onto the handrailing, you will need to be extra attentive and pay attention to each step you take.

For example, let's say you're carrying four packages, talking on your cell phone, while walking up a set of stairs while it's raining and you're wearing dress shoes. (Shoes with smooth bottoms and no traction)

This might be a worst-case scenario, but if you stood outside of a building while it was raining, I can only imagine how many people you would find doing at least two or more of these things while walking up the stairs.

The ultimate stairway safety tip is to use caution, pay attention to what you're doing and always have at least one hand on the gripable handrailing.
Stairs
/
Stair Glossary
A
B
C
D
E
F
G
H
I
J
K
L
M
N
O
P
Q
R
S
T
U
V
W
X
Y
Z