Step - Stairs And Construction
A stair step represents each individual horizontal section of a stairway that's used to step on, while ascending or descending a set of stairs. The picture below provides you with the perfect example of a few stair steps. The lower black arrow is pointing to the first stair step, located at the bottom of the stairway.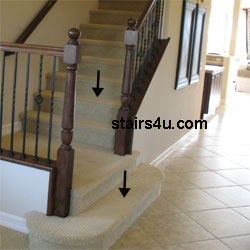 Is A Stair Landing Considered To Be A Stair Step?
Yes, anything that you would step onto that's part of the stairs, while climbing up and down a stairway, would be considered a step. However, there is a difference between a tread and the landing.

Even though the stair landing is something that you will be stepping on, while using the stairway, it's often much larger than an individual stair tread. In the picture above, the lower black arrow is pointing to the first stair tread and step.

The next step in the staircase will be the stair landing, before turning and continuing up the rest of the way. Stair landings are often used to change directions in a stairway or as a resting place on stairways that use them, but continue up in the same direction.
Stairs
/
Stair Glossary
A
B
C
D
E
F
G
H
I
J
K
L
M
N
O
P
Q
R
S
T
U
V
W
X
Y
Z