Strongback - Stair Framing And Building Materials
Strongbacks are usually used to reinforce and straighten walls, floors, ceilings and roofs. They can also be used to reinforce other parts of the building, like a set of stairs. The picture below provides you with a strongback that's nailed to a wall to keep it from moving, while the homes being built.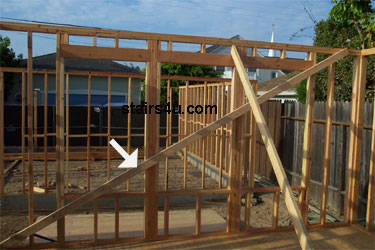 Ceiling Strongbacks
Ceiling strongbacks are use to reinforce and even straighten longer ceiling joists spans. For example, if I was using 16 foot long 2 x 6's for a ceiling, in a room that was 15 foot wide, I could run a 2 x 8 strongback on top of the 16 foot 2 x 6's.

I would place the 2 x 8 strongback in the center of the 16 foot ceiling joists and run it perpendicular to the ceiling joists. Then I would attach each ceiling joists to the 2 x 8 that was placed on edge.

The ceiling strongbacks will be placed in an upright position and will not be laid flat. If you're going to lay the strongback down and place it in a flat position, on top of the ceiling joists, it wouldn't be a strongback. Strongbacks need to be standing up on edge to reinforce a ceiling, correctly.
Stairs
/
Stair Glossary
A
B
C
D
E
F
G
H
I
J
K
L
M
N
O
P
Q
R
S
T
U
V
W
X
Y
Z