Symmetry - Stair Layout And Building Math
Symmetry is an exact duplicate of something, in the opposite direction. The picture below provides you with an excellent example of two stairs that are symmetrical. Architects have been using symmetry for years, when designing the interior and exterior of buildings.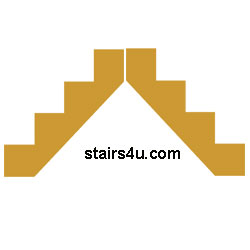 Looking For Building Symmetry
The next time you're standing outside of a large building, see if you can find any building components on the left side of the building that are also on the right side of the building. It's not uncommon to find pillars, columns or posts on the outside of the building that are exactly the same.

What about a kitchen? Do you have any cabinet doors that are exactly the same, except for one opens in one direction and the other one opens in another? Two doors on the outside of a home that are used as the main entrance to a building, could also be symmetrical.

The list goes on and on, bathrooms, bedrooms, closets, walls, lights, plumbing fixtures, cabinets, flooring and doors. You definitely don't need to walk very far in most homes to find something that falls into the category of symmetry.
Stairs
/
Stair Glossary
A
B
C
D
E
F
G
H
I
J
K
L
M
N
O
P
Q
R
S
T
U
V
W
X
Y
Z