Toe Board - Stair Woodwork Wall Protection
A toe board is often referred to as a skirt board, by most stair builders and construction professionals. This board provides you with a little more wall protection. It's not uncommon to find toe boards with nicks, scrapes and other damage, from peoples feet and vacuum cleaners. You could just imagine what the wall would look like, if the toe board wasn't there.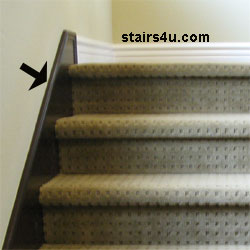 Are Toe Boards Really Necessary?
No they're not, but they do serve a purpose and if you understand what that purpose is, it could make your decision a lot easier, whether you do or don't install one, on your new stairway.

To get a better idea of what I'm talking about, start to examine some of the stairways in the buildings that you're using. If you notice that these areas are heavily damaged, you might not need to look for any more information.

However, if you hardly notice any damage, a toe board might not be necessary. The biggest problem I find with walls next to stairs, somehow relate to vacuum cleaners. As people vacuum their stairs, they often hit the walls or run the vacuums up against them. This usually provides scrape marks and gouges, and will eventually lead to some type of home repairs.
Stairs
/
Stair Glossary
A
B
C
D
E
F
G
H
I
J
K
L
M
N
O
P
Q
R
S
T
U
V
W
X
Y
Z