Stair Tread Mats - Stair Flooring
Stair tread mats are usually small pieces of carpeting, but can be built out of other materials that are installed over existing stairway steps. The picture below provides you with an excellent example of a stair tread mat and how it's used on a staircase.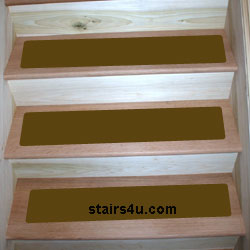 Before Purchasing Stair Tread Mats
Make sure that the stairway is in good condition. I've seen plenty of stair tread mats installed over damaged staircases. Simply covering up cracks, holes and other damage to your stairs, by using decorative mats, isn't going to solve your home repair obligations.

Yeah, you're right, the stairs will look nicer, but what happens when someone steps through one of these mats, because they haven't repaired the damaged stairway correctly. It's probably one of the worst things anyone can do, but people continue to do it.

That's the first thing you should do, the second thing you should do before purchasing any stair tread mats, will be to make sure that you're getting the correct sizes. Make sure that you measure your existing stair treads and understand exactly what size mat you're going to receive, before ordering anything.

If you're expecting these mats to cover the entire stair step, you need to order accordingly. However, if you only want to cover a small portion of the stair step, then you will need to order smaller ones.

One of the biggest problems with ordering anything over the Internet, wouldn't be knowing, exactly what you're going to get. Remember, you're probably responsible for shipping these products back to the manufacturer and this could be expensive. Try to get your orders right the first time, to eliminate potential problems with your stair tread mats in the future.
Stairs
/
Stair Glossary
A
B
C
D
E
F
G
H
I
J
K
L
M
N
O
P
Q
R
S
T
U
V
W
X
Y
Z