Tread Slope - Water Drainage Stairway Angle
A tread slope would be a slight angle that's used to safely drain any water that lands on top of the stair treads, off of the stairway. The picture below provides you with an over exaggerated illustration, but should make its point.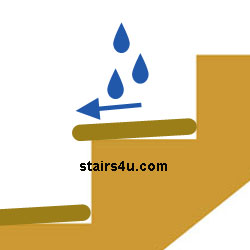 What Would You Use Tread Slope For?
Obviously, it wouldn't be necessary to slope or angle your stair treads in any way, on any interior staircase. However, if you're building a particular type of stairway on the exterior of your home, something like this could prove to be extremely beneficial.

For example, if you build a set of stairs that's going to have some type of waterproofing membrane installed over the entire stairway, it wouldn't be a bad idea to slope each step. This would prevent water from collecting on each stair tread, for long periods of time.

A sloped stair tread can have at least two major benefits. The first benefit would be the elimination of potential water damage. Anything you can do to prevent water from standing on top of any decks, floors, landings or stairways could extend their life.

All it takes is one small hole or crack in something that is supposed to be waterproof, to create big problems. One time I seen a small hole was a quarter of an inch in diameter, ruin a new ceiling that I had just installed.

The second major benefit for sloping stair steps would be safety. Water usually makes navigating up and down a stairway, extremely difficult. If you've done it before, you know what I'm talking about.

Sloped stair treads aren't going to be applicable for every exterior stairway, but should be considered, during the design and construction phase.
Stairs
/
Stair Glossary
A
B
C
D
E
F
G
H
I
J
K
L
M
N
O
P
Q
R
S
T
U
V
W
X
Y
Z