Volute - Stair Handrail Banister Parts
Sometimes a picture is worth a thousand words, so instead of explaining to you what a volute actually is you can take a look at the picture below, to get a better idea. They're used to finish off the bottom of the handrailing banister and usually have the same shape, but can come in different sizes.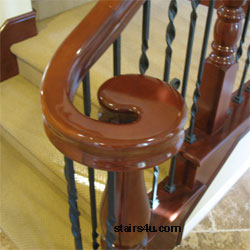 A volute is my favorite way to finish off any stairway bottom. You can install a half round tread that will extend from the side of the stairway and then position your balusters and newel post accordingly. It really looks elegant when it's done.
Stairs
/
Stair Glossary
A
B
C
D
E
F
G
H
I
J
K
L
M
N
O
P
Q
R
S
T
U
V
W
X
Y
Z