Walnut - Wood Stair Building Materials
Walnut is a hardwood with a darkish brown color. It's an extremely durable hardwood, even though it's rarely used for stairways or handrails. There's a good chance that it's isn't going to be readily available and might need to be ordered from your local lumber yard or home improvement center.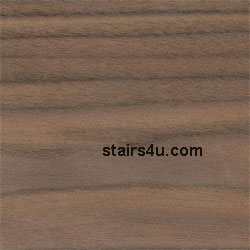 I always enjoyed working with Walnut, because it had almost the perfect color, to it naturally. As a matter of fact, one of the most popular stains I use, comes in three different shades called Dark Walnut, Medium Walnut and Light Walnut.

Believe it or not, I use these stains, on a variety of different hardwoods.

The picture above provides you with a perfect wood sample of Walnut. However, this is a piece of walnut without any knots in it.

If you are going to build a set of stairs and you're looking for a darker wood, you should take a look at Mahogany. Mahogany has been used for stair treads, risers, skirt boards and handrailing, for centuries.
Stairs
/
Stair Glossary
A
B
C
D
E
F
G
H
I
J
K
L
M
N
O
P
Q
R
S
T
U
V
W
X
Y
Z