Water Damage - Construction And Stairway Repairs
Water damage is usually caused from a continuous supply of water or moisture around building materials, for long periods of time. The picture below provides you with an excellent example of a water damaged stair landing and riser. The water damage for this stairway came from a steady supply of moisture, in the air.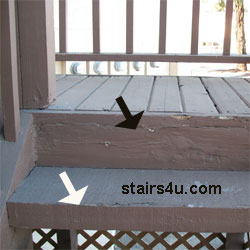 Can You Have Water Damage And Termite Damage?
Most definitely, it's not uncommon to see a large group of termites, hanging around wet wood. As a matter of fact termites are actually attracted to moist wood.

One time I installed a new window at my home and realize that there were a few termites, in one of the wall framing studs. I went ahead and replaced the stud and finished the interior and exterior walls, only to remove it, later.

I was putting my second two-story room addition on top of my single-story house and needed to install a structural post, in the area that I had just remodeled, a year and a half earlier. This wasn't uncommon for me, if I had an idea, there was a good chance that it wouldn't be long, before it entered full production.

When I tore into the wall again, I noticed that the termites were back. They had eaten through about 20% of the 2 x 4 stud, even though there weren't any termites to be found. If there was one thing that I learned from this lesson, it was that termites can do a lot of damage, in a short period of time.

If you have water damaged stairs that could be creating problems for people using the stairs, try to fix them as soon as possible. No matter what you will need to make the building repairs eventually, I just hope that they will be done before any lawsuits or personal injuries.
Stairs
/
Stair Glossary
A
B
C
D
E
F
G
H
I
J
K
L
M
N
O
P
Q
R
S
T
U
V
W
X
Y
Z