Well Hole - Stair Construction And Design
Some construction workers refer to a stair well as the well hole. This is the section of the building that will contain and enclose the stairway. The picture below provides you with an excellent example of what a well hole actually looks like.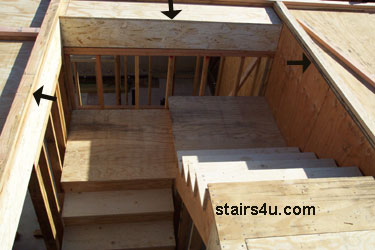 Dangers, Working Around Staircase Well Holes
Whenever we're framing a new home or building a room addition, I try to warn everyone who's going to be working around the stairwell, about how dangerous this area is. I'm not just talking about falling down the well hole, I'm talking about people carrying awkward lumber up the stairs, while other people are throwing things down.

Stairway well holes are dangerous to work around and everyone who works on a project with one, should understand what they're dealing with. Even if nobody was to ever drop something down a stairwell on purpose, doesn't mean that something wouldn't drop accidentally.

I've seen construction workers get hit by almost every type of building material imaginable, walking either up or down a set of stairs. Use a little caution and common sense while working around these areas.
Stairs
/
Stair Glossary
A
B
C
D
E
F
G
H
I
J
K
L
M
N
O
P
Q
R
S
T
U
V
W
X
Y
Z