White Oak - Wood Stair Building Lumber
White Oak is a light-colored wood that can be used for building stairs and handrailing. The picture below provides you with an excellent example of White Oak. This hardwood is durable and could be used for stair steps, treads, skirt boards and risers.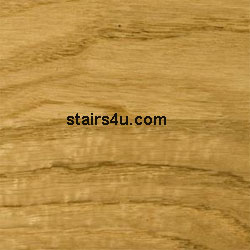 On the West Coast of the United States, Red Oak is more popular than White Oak, for whatever reason and readily available. You can usually find that at any lumber yard or home improvement center, in our area.
Is White Oak Hard to Work With?
Like I said earlier, I haven't personally worked with White Oak, but have seen it installed, by other stair building professionals. It is an extremely durable and hard wood and I would imagine that it could be used for anything.

Some hardwoods are denser than others and seem to last longer, especially if they're used for wood stair treads. If you're planning on building a stairway and using wood stair treads, White Oak would be an excellent choice.
Stairs
/
Stair Glossary
A
B
C
D
E
F
G
H
I
J
K
L
M
N
O
P
Q
R
S
T
U
V
W
X
Y
Z