Winder Stairs - Stairway Design
Winders stairs are usually used in smaller homes, with limited space. The picture below provides you with an excellent example of a winder staircase with wood treads. These stairways can come in a variety of different sizes, but the shape and design will usually remain the same.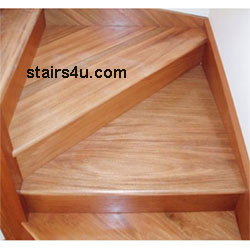 Winder Stair Safety
I had to make a statement to my neighborhood and let everyone know that I was a stair builder, contractor and expert home builder, by building a two-story room addition over my single-story home. Part of the process was to install a winder stairway, even though I didn't need one.

I even followed all of the building codes for safety, but that didn't stop everyone in my family from falling down the stairs, at least once. Even though they look neat, winder staircases can be a nightmare to navigate successfully, every day of the year.

Winders stairs usually have tight inside corners, where most people in a hurry, are going to be traveling. This could be a problem, if you're coming down one of these stairways at an accelerated pace and not paying attention, or holding on to the hand railing, or carrying something awkward, while someone's yelling at you, to hurry up..

The stairway I built was completely carpeted and I still slipped, lost my balance and fell down the stairs, three times. Even though I didn't injure myself seriously, it was still painful and detrimental to my ego. I just built something that I thought was wonderful, but actually it was creating problems for my entire family.

At least I didn't build it out of wood or another building material that would have provided me with a smooth and slippery surface. I can only imagine the potential dangers that these building owners have to deal with, especially if they have young children, who are constantly running around the home.

Winders stairs are neat, but I don't think that I would ever install them in a home or building, unless the design of the building required one.
Stairs
/
Stair Glossary
A
B
C
D
E
F
G
H
I
J
K
L
M
N
O
P
Q
R
S
T
U
V
W
X
Y
Z