Witness Marks - Stair Stringer Design
Witness marks are used by construction workers to provide them with more information about a specific part of the building. A good example of this is the picture below. You can clearly see the words 2 x 10 floor and cut line, written on the stair stringer. These are witness marks used by the person laying out the stair stringer, to remind them, to cut the right line.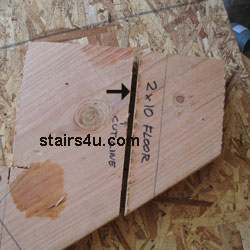 Witness Mark Tips
Make as many of these marks as you possibly can, through out the entire construction of the stairway. However, don't get carried away with finished materials that are going to be stained or painted.

For example, I wouldn't write top, on top of an oak stair tread that's going to be installed and finished, because you would end up sanding the pencil marks off, later. It would be a lot easier to mark the bottom of the tread, in a location where no one would ever see it, but would still provide you with a reference mark.

Remember the statement used by law enforcement officials, "Think before You Drink," well in this case, you should think before you mark.
Stairs
/
Stair Glossary
A
B
C
D
E
F
G
H
I
J
K
L
M
N
O
P
Q
R
S
T
U
V
W
X
Y
Z