Bamboo Stair Treads
Welcome to the future of stair building and construction. A long time ago, stair treads and risers were built out of wood, but not anymore, because bamboo stair treads are starting to make their way onto the market. Below is an excellent picture of a bamboo stair tread and riser.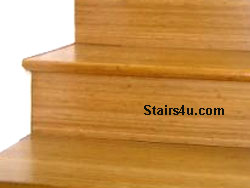 If you're looking for a hard durable stair tread, you can't go wrong with bamboo. It comes in a couple of different designs and looks fantastic once it's finished.


Bamboo Stair Tread Tips
1. The bamboo steps can be slippery. Just like wood, if you apply a gloss or smooth finish to the top of these steps, you could end up with a safety hazard. If this is the case, then you might consider installing stair tread mats, carpeting or other nonskid materials.
2. If you're looking for a building material that doesn't have any knots and a few building material defects, you found it.
3. Even though I haven't ever installed any bamboo
stair parts
, I have noticed that it can splinter when cut. Be prepared to do a little sanding.
Interesting Fact About Bamboo Building Materials
Even though bamboo is an extremely fast growing plant, material manufacturers usually wait between five and seven years to harvest higher quality A - Grade bamboo. This gives the plant plenty of time to mature.
This method of harvesting is similar to older growth lumber. Older trees usually provide a higher quality lumber.
Back To - Stairs / Stair Treads