Indoor Stair Treads
Indoor stair treads are usually made out of wood or carpet, but can be made out of a wide variety of other building materials. A carpeted stair step is probably the most common method used by home builders to finish a staircase. Whether or not they choose to add additional wood to the edge of their stairs, would be entirely up to them.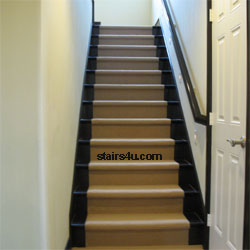 What's Cheaper, Carpeting Or Wood Stair Treads?
It all depends upon which type of carpeting and wood you're actually going to purchase. For example, if I was going to install Tigerwood stair treads and the most expensive carpeting in the world, it could be a tossup.

The best way to answer this question, would be to take a look at what home builders do, because they usually know how to create a nice looking stairway, without spending a lot of money. This is going to surprise you, but I have never been inside of a model home, that had solid wood stair treads and I've install a lot of stairways.

That should answer your question, most home builders carpet part or all of the stairway, to save money and time.


How Long Does It Take To Install Carpeting On Your Average Staircase?
One time I watched one man, install and finish the carpeting for an L shaped stairway, with a landing, in about 90 minutes.
How Long Would It Take To Install Wood Stair Treads On Your Average Staircase?
I've never witnessed this in person, but I heard it from another carpenter. He told me that he installed wood stair treads, risers and skirt board's, one on each side of the stairway, in five days.
Even though I don't consider this to be normal, it should give you some perspective. In most cases, wood will take longer to install than carpeting.
Back To - Stairs / Stair Treads