Laminate Stair Treads
Laminate stair treads have a thin layer of wood or a material that looks like wood, covering another type of wood, in order to create the finished stair tread. These aren't the most popular stair treads for reason, if they get scratched or gouged, there isn't going to be an easy way to repair them.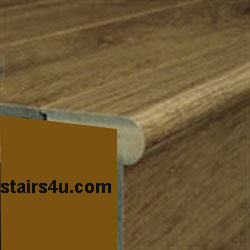 Things You Should Know About Laminate Stair Treads
1. Laminate stair treads usually have a durable finish that can last for a lot of years, if maintained and they aren't abused. Some of these finish stairways really look nice, even though, most of the time, don't really look like real wood.

2. They're easy to clean and maintain. Most of these stairways can be cleaned with a damp cloth, but vacuuming with the wrong accessories could easily scratch the finish.

3. Laminate stair treads aren't difficult to install, however, if they need to be cut, make sure that you have the correct saw blade. It wouldn't be a bad idea to make a practice cut, on a scrap piece of laminate, if you have one


Problems With Laminate Stair Treads
1. Even though they don't scratch easily, if you drop something heavy on the stair treads, you could damage it. I've seen more damage to laminate counters, cabinets and stair treads, then you could imagine.
2. Once they're damaged, they could be extremely difficult to repair or at least repair correctly. Anyone can fill a hole or repair a dent, with some type of wood filler, but would it match?
3. Particle board is usually weaker and you could have problems with the stair tread nosing, actually breaking off, while people are walking up and down the stairway.
4. If you have children or pets, these stairs could easily become damaged, over time. Large pets and small children can wreak havoc on laminate stair treads.
5. Laminate stair treads can be slippery, creating safety hazards for the stairway users. Make sure that you purchase a nonskid or skid resistant laminate stair tread, or purchase some type of non-slip materials that can be installed, at the same time, as the stair treads.
Back To - Stairs / Stair Treads