Architectural Stairs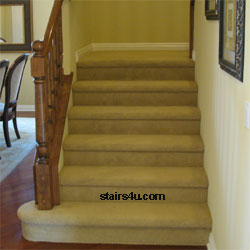 Straight Architectural Stairs
The most common form of stair construction are going to be straight stairs. Architectural stairs could be prefabricated in a factory or shop somewhere or can be designed on-site at your job. Most architectural details will be performed on site by custom craftsman. These craftsman or finish carpenters provide this service necessary to complete the task.

The architect draws the plans the Finnish carpenter provides the labor. Architectural woodworking trim comes in more sizes and shapes and you can imagine, anywhere from small intricate little pieces to large custom shapes. Starting with a simple Straight set of stairs with architectural trim you will be able to decorate the stair stringers and install a fancy handrail system to really dress up the stairway.


Curved Architectural Stairs
Working with
curved stairway
systems you will be amazed at what architectural detail and trim work you will be able to use in what is available to use to complete your project. Curved stairway's otherwise known as circular stairs by most come in many shapes and sizes and can be a daunting task to build. Some of the stairs by themselves will take months to build and will require more than one Finish carpenter.
Architectural circular stairs will be designed by an architect or a master carpenter most of the stairs components will be built in a shop and brought to the job. Building curved architectural stairs requires advanced building techniques that are beyond the grasp of most standard do-it-yourself homeowner's. But don't be discouraged even though this is a complicated building process with enough time you can do anything.
Geometric Architectural Stairs
Geometric shapes stairways are among the hardest architectural stairs to create due to elliptical shapes and freestanding stair stringers. Most architects draw on a sheet of paper something that is most difficult to build structural. This is where the help of a master stair builder will be able to perform tasks that often are extremely difficult. Over the years I have build stairs that have been structurally complicated.
These geometrical shaped architectural stairs are among the best looking when completed. The biggest problem with freestanding architectural stairs are the tendency to sag in the middle due to the
design
. This problem can be solved using laminated stair stringers created on the job or in a shop. Geometrical stairways even know extremely complicated to build create a main focal point in a home you're building. The designed by most architects makes one of the biggest statements in a home as you walk through the front door.