Deck Stairway
Building outdoor decks adds to the value of the property and if designed properly look fantastic. Deck stairs like this one in the picture above have a nice look and excellent stain finish to them. The Finish will have to be maintained yearly depending on the weather in your area.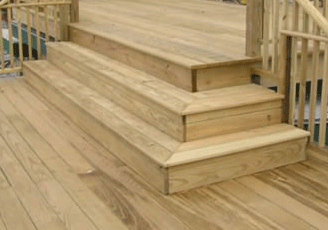 Hear some great advice when building outdoor stairs for your deck. Redwood, cedar and pressure treated materials seem to last a little bit longer than regular construction standard building materials, like Douglas fir or southern pine when use outdoors.
I prefer not to use Redwood or cedar for my deck framing materials. These are considered soft woods and could break easier under stress or heavy loads.

One of the biggest problems with deck stair damage will be moisture. Moisture over time will damage the wood and could attract termites. Termites love your deck if it's touching the dirt or not built high enough off the ground.

You can use any wood you want and over time if the deck and the stairs are built incorrectly, there is a good chance it will suffer from some sort of damage.

I prefer using Redwood when building stairs and decks, simply because I like the way it looks. In the past few years there have been a number of manufactured decking materials and they seem to last a long time and look nice.

Whatever you choose for your building materials, make sure the deck stairs and deck footings stick up at least 6 inches above the soil. This will help prevent wood damage to the structural framing and decking materials.