Deck - Exterior Construction And Building
A deck is usually referred to as an exterior floor that is or isn't attached to a building. A deck usually has a protective handrailing around the perimeter, if it's higher than 30 inches off of the ground. The picture below provides you with an excellent example of a wood deck.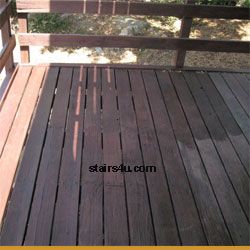 Deck Building Tips: I've noticed plenty of decks constructed out of pressure-treated building materials. I would like to point something out, about this type of wood and the illusion that it often creates with homeowners and even experienced contractors.

Pressure-treated lumber will rot. Are you shocked? Did someone tell you that pressure-treated lumber lasts longer than regular construction standard lumber?

My experience in construction has led me to the conclusion that some of the information I've heard, read or even watched on remodeling or construction videos is incorrect. I've watched plenty of experts in the home-improvement fields, mention things that weren't true or weren't entirely true.

When it comes to building a wood deck, the best advice I could give you, would be to keep all of your wood, raised at least 6 inches off of the ground. Use concrete piers, footings or foundations to accomplish this task.

Do not, lay any lumber, including pressure-treated lumber on the ground, and expect it to last for many years. I'm not about to suggest that it won't, because I've seen some incredible things in my three decades of building.

Remember our buildings enemy is water? If you have any wood laying on the ground and the soil is damp or remains damp for long periods of time, you're going to have problems.
Stairs
/
Stair Glossary
A
B
C
D
E
F
G
H
I
J
K
L
M
N
O
P
Q
R
S
T
U
V
W
X
Y
Z