Construction Standard Lumber
Wood that is used primarily for framing and building homes. On the west coast of the United States, use Douglas Fir and on the East Coast they often use Southern Pine.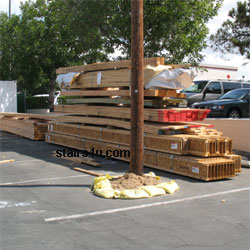 Construction standard lumber usually comes in four different grades.

Utility or number 3 grade construction standard lumber is usually one of the worst pieces of wood you can purchase and normally isn't allowed to be used in the construction of a building.

Some building plans require specific lumber grades. Most of the time the building blueprint requirements will specify a number two or better grade of lumber.

Number 2 is usually what you're going to find at most lumber yards and home improvement centers. This is the most common grade of wood available today and usually works well for building stairs and framing houses.

Number 1 usually has fewer knots or lumber imperfections than number 2 and if a architect or engineer specifies a number one grade of lumber on the blueprints, plan on spending a few extra dollars.

Last but not least, there is a select grade of lumber. This is a premium quality lumber, that usually has even less imperfections than a number 1 grade.

When I first started working in the construction industry, almost every stair stringer I cut was a select grade of lumber. As years went on, I started to see less and less, select grade lumber. It just got too expensive for most home builders to use.
Stairs
/
Stair Glossary
A
B
C
D
E
F
G
H
I
J
K
L
M
N
O
P
Q
R
S
T
U
V
W
X
Y
Z