Bracket - Stair Construction Hardware
Construction workers often use different brackets to connect a variety of different parts of structural building components together. In stair building, the most common bracket used is a stair tread angle bracket and it's usually made out of metal, but can be made out of wood.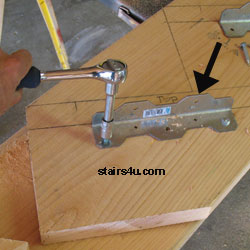 I don't recommend using wood brackets, unless there is a way to securely fasten it to the stair stringer.

Wood stair brackets or cleats that are nailed into the stair stringers can loosen over time, creating a safety hazard. Could you imagine moving a refrigerator or large piece of furniture up and down a set of stairs with loose steps?

However, I'm not going to tell you that something like this wouldn't happen, using metal stair tread brackets, because even some of these loosen up over time.

If you have a set of stairs that was constructed using wood or metal brackets and you have loose stair treads, simply make the necessary repairs. Most of the time these repairs can be made inexpensively, but don't procrastinate and make these repairs as soon as possible.

If you're looking for more information about how to construct a stairway using metal stair tread brackets, you've got to check out this fantastic book on," Simplified Brackets Stair Building."

I haven't found one book that talks about building a set of stairs like this one yet.
Stairs
/
Stair Glossary
A
B
C
D
E
F
G
H
I
J
K
L
M
N
O
P
Q
R
S
T
U
V
W
X
Y
Z