Angle Bracket - Building Hardware And Stair Assembly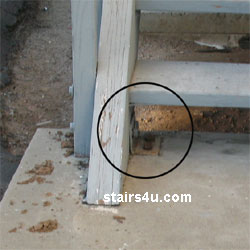 If we didn't attach the stringers to the base or concrete foundation, there's a chance that the stairway would fall down in the future.

Obviously, I can't recommend what type of building hardware or angle bracket to use for your specific project, but I can suggest that you avoid trying to save money when making your decision.

Make sure that you get a heavy-duty anchor or angle bracket and use the correct bolts to attach the stair stringers to the concrete foundation.

Framing anchors like these might not be necessary when attaching a wooded stair stringer to a wood subfloor.
Stairs
/
Stair Glossary
A
B
C
D
E
F
G
H
I
J
K
L
M
N
O
P
Q
R
S
T
U
V
W
X
Y
Z