Building Foundation
This is usually what a house or building rests upon. Foundations are usually built using concrete, block, or brick.
A building foundation can be solid concrete like the picture above or built with concrete footings and a wood framed subfloor. Both of them have their disadvantages and advantages.

If you're going to build a wood framed subfloor, make sure that you install the correct structural supports for any walls, posts and stair stringers.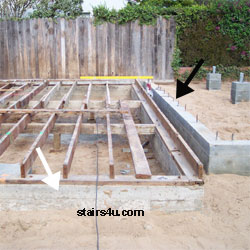 This is probably one of the biggest problems overlooked by most framers or stair builders. As a matter of fact, it's rarely drawn into the building blueprints, either.

Some concrete building foundations require footings or structural foundation supports to be located at the base of a stairway.
Stairs
/
Stair Glossary
A
B
C
D
E
F
G
H
I
J
K
L
M
N
O
P
Q
R
S
T
U
V
W
X
Y
Z