Concrete Block Stairs - Home Building
Concrete block stairs can be built out of concrete blocks, mortar and even wood. (See picture below) Concrete blocks also come in different shapes and sizes and are normally bonded together with mortar.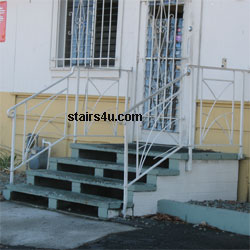 Some concrete blocks don't require mortar, but it would be difficult to build a stairway, without some type of concrete or cement.

If you're going to build a set of stairs with concrete blocks, plan on cutting a few of them. These blocks are normally 8 inches tall and most building code riser requirements are less than 8 inches.

If you could examine the picture above, close enough, you will notice that some of the blocks have been cut underneath the stair treads.

Stair Building Tip: I've seen plenty of stairs built with concrete blocks that haven't been cut. It's definitely easier to build a set of stairs out of blocks, without cutting them, but they might not meet local building codes.

An 8 inch stair riser doesn't provide most of us with a comfortable step and should be avoided if possible.
Stairs
/
Stair Glossary
A
B
C
D
E
F
G
H
I
J
K
L
M
N
O
P
Q
R
S
T
U
V
W
X
Y
Z