Glulam - Glue Laminated Building Lumber
A glulam, often referred to as a lamb or glulam is a man made structural engineered product that is created by gluing individual pieces of construction standard building lumber, together. A good example of this would be the long beams in the picture below.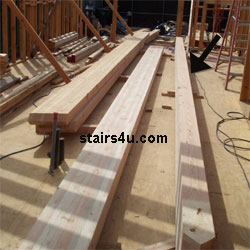 Glulam beams and posts come in a variety of different shapes and sizes. Anything over 50 feet long would probably be considered a special order item. You're not going to be able to go down to your local home improvement center or most lumber yards and purchase a glulam beam.

Since they are engineered man-made products, they can hold enormous building loads. They're often used in structural roof and floor framing. They can also be used on the exterior of a building, but you need to make sure that you order these beams with an exterior glue. They do make interior and exterior glulam beams.

There are also a wide variety of other engineered lumber's that can be used today, in place of a beam or post made from laminated lumber.
Stairs
/
Stair Glossary
A
B
C
D
E
F
G
H
I
J
K
L
M
N
O
P
Q
R
S
T
U
V
W
X
Y
Z