Engineered Lumber - Structural House Building Materials
Plywood, Paralams, Microlams, Glulams, particle board and oriented strand board all fall into the category of engineered lumber. Engineered lumber would be any type of man made lumber.
In other words, if it's glued together, it's engineered lumber. Construction standard 2 x 4's, 2 x 6's and other stair building lumber, that you can purchase at most lumber yards, would be considered engineered lumber.
Engineered Decking Materials For Stair Treads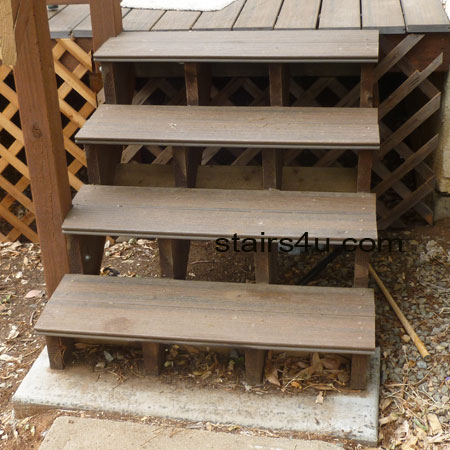 This particular stairway is using construction standard lumber for the stair stringers and engineered decking materials for stair treads. Make sure you read and understand the manufacturer's installation instructions and whether or not these decking materials, either engineered or cut directly from a tree can be used for stair treads or any other part of the stairway construction.

Most manufactured lumber and engineered materials for building and construction need to be approved and tested and should have some sort of structural engineering information and installation instructions provided by the manufacturer. This should include how far apart you would be allowed to space each stair stringer.

Even though these materials could have a floor, roof, live load or dead load rating, it wouldn't be a bad idea to verify with your local building department or a structural engineer whether or not they could be used as stair treads.

Just a heads up, I've had problems with building departments in the past, who desired stronger materials for stair treads.
Here's a closer view of the engineered decking materials.
Stairs
/
Stair Glossary
A
B
C
D
E
F
G
H
I
J
K
L
M
N
O
P
Q
R
S
T
U
V
W
X
Y
Z