Microlam - Laminated Veneer Lumber
A microlam is a man-made piece of lumber, commonly referred to as engineered lumber. They are made by pressing strips or pieces of wood together at high pressures, using chemically-based adhesives. The picture below provides you with an excellent example of a microlam, structural support beam that's holding up the upstairs floor, walls and roof.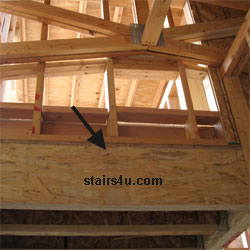 Can Microlam's Get Wet?
The answer to this question is yes, but how wet would provide us with a better question. Water usually causes man-made engineered building materials to expand, over time. If it's possible, try to avoid getting any building materials, regular construction standard lumber or engineered lumber, like a microlam, wet.
What Are The Benefits Of Using Microlam's Over Construction Standard Lumber?
I'm not entirely sold on man-made building products, but I can say that they are Straight and usually don't have any types of lumber imperfections. You don't have to worry about knots, cracks, twisting, warping or even bowing.
What Are The Disadvantages For Using Engineered Lumber?
One of the only disadvantages I can think of for a carpenter, is that some of them are hard to nail. I was nailing a long strap onto one of these beams, a few years ago, when I finally had to stop, because my wrist was killing me.

The only way that I could finish nailing the strap was to use a pneumatic nailing device. This wasn't the first or last time that I encountered difficulties nailing into a microlam.
Stairs
/
Stair Glossary
A
B
C
D
E
F
G
H
I
J
K
L
M
N
O
P
Q
R
S
T
U
V
W
X
Y
Z