Stringer - Stairway Parts And Construction
A stringer is the main structural support for most of the stairways, built today. The picture below provides you with an excellent example of what a wood stair stringer looks like. Stair stringers come in a variety of different shapes and sizes and can be built out of different building materials.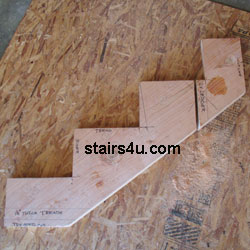 You're probably wondering why the stair stringer in the picture above has been cut and separated at the top. This particular stringer was used as an example in a book that I was writing called," Simplified Stair Building."

If you put the two pieces together you would have a longer stair stringer that could be used to attach to a floor or even a cantilevered floor. I was trying to provide my readers with an example of two different types of stair stringers and how they can be used.

If you remove the upper section and only use the bottom stringer, this particular stringer would attach to a ledger that was nailed onto a floor or landing. Both of these stair stringers are designed to build a set of stairs with only three steps.
Selecting The Right Materials
The most important point I would like to make about selecting the right lumber for your stair stringers, would be to make sure that you select a piece wide enough, to provide you with enough structural support, for the stairs.

For example, if I cut this stair stringer out of a 2 x 8, instead of the 2 x 12, I would only have about an inch and a half of wood left over for my structural support. By cutting my notches out for my stair treads and risers, I wouldn't have much wood left over on the bottom of the stair stringer.

2 x 12's and 2 x 14's work great for conventional stringers like the one in the picture above. I've seen people use 2 x 10's, but that's pushing it. For an extra 2 inches of lumber, it won't be the end of the world, to spend a few more dollars and rest assured that view have built a better stairway.
Stairs
/
Stair Glossary
A
B
C
D
E
F
G
H
I
J
K
L
M
N
O
P
Q
R
S
T
U
V
W
X
Y
Z