Half Newel - Wood Handrailing Parts
A half newel can also be referred to as a split newel. This ones simple to explain, if you cut a newel post in half, you would have half of a newel. Get it, got it, good, because sometimes two words can provide you with a clear explanation of something that actually make sense.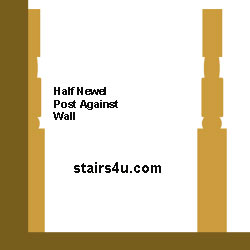 In the diagram above, I split the newel post in half and attached it to the wall. You rarely see this type of design anymore, but when I was younger, I seen them all over the place. It really is a nice way to finish an elegant looking handrail.

Half Newel Installation Tip: It wouldn't be a bad idea to paint or stain any stair parts that are going to attach to your finished wall. Painters often have a difficult time staining wood stair parts, that have been attached to a wall that's going to be painted a different color than the handrail.

If it's possible, make sure that the wall is also painted that you're going to attach the half newel post to.
Stairs
/
Stair Glossary
A
B
C
D
E
F
G
H
I
J
K
L
M
N
O
P
Q
R
S
T
U
V
W
X
Y
Z