Knee Wall - Stair Building And Design
A knee wall in the construction industry is usually referred to as a small wall. Think about it, a small wall starting at knee height or lower shouldn't be called anything else. The picture below provides you with an excellent example of a knee wall that's attached to each side of this set of stairs.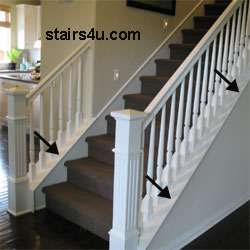 These walls can be angled like the picture above or they can be square, like most walls. There are plenty of other terms that stair builders and construction workers use to describe different types of construction methods and materials.

A knee wall can also be referred to as a rake wall, gable wall, cripple wall or even a short or small wall. If you're interested in learning more about commonly used construction terms throughout the building industry, make sure that you check out the rest of this incredible glossary of stair building terms.
Stairs
/
Stair Glossary
A
B
C
D
E
F
G
H
I
J
K
L
M
N
O
P
Q
R
S
T
U
V
W
X
Y
Z