Layout - Stair Building Instructions
Layout is often referred to in the construction business as a preparation process. For example, when a carpenter lays out a wall, they will measure and mark the exact locations of the wall studs, on the top and bottom plates, before building the wall. The picture below provides you with an excellent example of a stair stringer that has been laid out and is now ready to cut.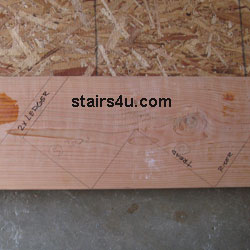 Almost everyone who works in the construction industry, has been involved in one type of building layout or another. Concrete foundation builders need to mark off the areas that need to be dug for their footings, before forming or pouring the foundation.

Circular stairs also require a certain amount of preparation, before they can be built. Whether you lay out these curved stairways on a piece of paper or at the job site, there's one thing for sure, they will require some type of building preparation, before construction ever takes place.

Even a Straight set of stairs will require some type of preparation or layout, before the stair builder can get started. A few measurements will need to be taken and verified, before you can even get started, laying out the stair stringer and finishing the stairs.
Stairs
/
Stair Glossary
A
B
C
D
E
F
G
H
I
J
K
L
M
N
O
P
Q
R
S
T
U
V
W
X
Y
Z