Mill Finish - Stair Building Materials
A mill finish would be the finished edge of any piece of lumber that came from a lumber mill. The picture below provides you with an excellent example of a smooth finish on a piece of construction standard lumber that came from a lumber mill.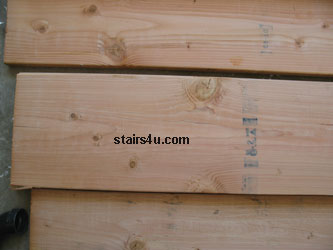 Can You Get Different Types of Mill Finishes?
Yes you can, you can get smooth or rough lumber from almost any lumber yard in the country. It doesn't make sense, but you could end up paying more for rough lumber than you will for smooth lumber.

Rough sawn lumber is usually thicker than construction standard. For example, a construction standard 2 x 4 measures 1 - 1/2 inches by 3 - 1/2 inches. A rough sawn 2 x 4 usually measures 2" x 4".

You can also order resawn lumber that is usually cut out of construction standard materials. Resawn lumber usually has a more consistent rough texture than rough sawn lumber. Rough lumber could also have smooth patches throughout the board or a rougher texture.

You can order almost any type of lumber and size from your local lumber yards. Along with the variety of different sizes, you can also get a variety of different mill finishes.
Stairs
/
Stair Glossary
A
B
C
D
E
F
G
H
I
J
K
L
M
N
O
P
Q
R
S
T
U
V
W
X
Y
Z