Rise - Stairway Building
The illustration below provides you with an excellent example of what the overall measurement is from one floor to the other one, or the total stair rise. The total distance between the top of the bottom level (floor) and the top of the top level (floor) will provide you with a measurement that can be equally divided into individual risers for your stairway.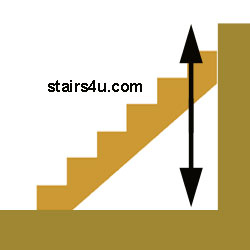 Stair Rise Measurement Tip
Make sure that you adjust for any flooring that's going to be installed at the bottom or top and through out the stairway. This seems to be a big problem, even for experienced stair builders.

For example, if you're going to use the same flooring throughout the house, including the stairway, you won't need to compensate for anything. If I was going to use 3/8 inch thick carpeting with a 3/8" thick padding, throughout the entire house, I wouldn't need to make any type of adjustments.

Let's see if I can provide you with a better explanation. The total thickness of your flooring is going to be three quarters of an inch. If I place a 3/4" section of flooring on the bottom floor, without placing a 3/4" section of flooring on my first stair tread, I would end up with a stair riser that was three quarters of an inch less than the overall individual riser measurement. This would create a problem for the stairway and building inspector.

However, if I place a 3/4" piece of flooring on top of the bottom floor and then place a 3/4" piece of flooring on top of the rest of the stair treads, including the top floor. I would end up with equally spaced stair risers.

Whenever you use the same materials through out your house, you won't have a problem with your stair riser measurements, as long as they're already equally spaced.
What Happens When You Change Flooring Materials?
This is when you create problems for your stairway and will need to compensate for them accordingly.

For example, you're going to paint the original concrete foundation. In other words, you won't be adding anything but one layer of paint to the top of your bottom floor. However, you are planning on carpeting the stairway and the upper floor.

If this is the case, you're going to have equal riser measurements, everywhere except for the first step, at the bottom of the stairway. The stair stringer will need to be adjusted at the bottom and the overall rise or total height will always need to compensate for any flooring inconsistency.
Stairs
/
Stair Glossary
A
B
C
D
E
F
G
H
I
J
K
L
M
N
O
P
Q
R
S
T
U
V
W
X
Y
Z