Steel Stairs - Construction And Design
Steel stairs would include any stairway that was made out of steel. I love these easy descriptions, but the reality is a little different. Aluminum or cast iron stairs wouldn't fall into the same category of steel stairs. Aluminum, cast iron and steel would fall under the category of metal stairs, but would not fall under the category of steel stairs.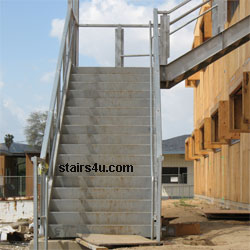 The picture above provides you with an excellent example of a steel stairway. Each one of the stair treads will eventually be filled with about 2 inches of concrete, in order to complete the stairway.
What's Better Steel Or Wood Stairs?
If you're looking for long lasting stairs, under the ideal conditions, both of these stairs will last a long time, but steel is going to always lasts longer than wood, in the ideal environment. The biggest problem with metal stairs is that they usually provide people with a cold feeling, where wood usually provides people with sense of warmth.
Why Are More Stairs Built Out Of Wood Than Metal?
Wood is a renewable resource, where metal isn't. I can't even imagine the amount of wood that's available today or how much wood is going to be available the future, but we could actually run out of steel.

More stairs are built out of wood, simply because it's cheaper to build wood stairways than it is to build them out of steel.
Stairs
/
Stair Glossary
A
B
C
D
E
F
G
H
I
J
K
L
M
N
O
P
Q
R
S
T
U
V
W
X
Y
Z