Treated Lumber
Treated lumber is wood that has been put under a tremendous amount of pressure to force chemicals into it. These chemicals can extend the life of boards and can be used for a variety of different things. The picture below provides you with pressure treated lumber that's going to be used for wall framing base plates.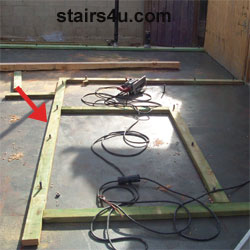 Pressure Treated Lumber Myths
If I had a nickel for every time someone told me that pressure treated lumber doesn't rot, I could probably head down to my favorite restaurant and enjoy a nice meal. Yes, pressure treated lumber does rot, there I cleared that one up and don't ask again :).

You cannot put pressure treated lumber on the ground (soil or dirt) and expect it to last forever. Especially if the ground is going to be moist or wet for long periods of time. To make matters worse, if you're treated lumber is sitting on top of dirt that's wet and in the shade, you're going to have even bigger problems, much sooner.

What about this myth, the chemicals used for treated lumber, kills termites. Wrong, recently I had to remove a pressure-treated 2 x 4 that was used as an exterior wall framing plate, because it was damaged by termites.

Don't expect pressure-treated lumber to last any longer than construction standard lumber, if it's used incorrectly. As a matter of fact, don't even waste your money, purchasing treated lumber, if you're not going to bother to take the time to learn about it.

That last sentence could be eliminated, because you're actually reading it and it would only apply to those who weren't. My main point is to spend some time learning about the project you're planning on building, before building them incorrectly.
Stairs
/
Stair Glossary
A
B
C
D
E
F
G
H
I
J
K
L
M
N
O
P
Q
R
S
T
U
V
W
X
Y
Z