Building Handrail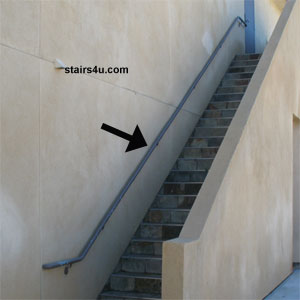 Some building codes require a gripable handrail to assist people while walking up and down stairs. Feel free to check out the stair building code section of this website for more information.

However, I strongly advise that you check with your local building department also, just in case some of these building codes have been changed or aren't accepted, in your community.

I'm not going to go into a lot of detail, because handrails are usually easy to install, but they could be difficult to install correctly. Depending upon the type of stairway, installing a handrail could be a nightmare and you should seriously consider hiring a professional, if it's out of your league.

Make sure that the handrail is securely fastened to the building, to prevent anyone from pulling the handrail off. Remember the handrail is there to protect people from falling and it wouldn't be a pretty sight, to watch someone falling down the stairway, while they were holding onto a section of the handrail that had just separated from the building.

Handrails need to be securely fastened to the building or guard rail
.
Back To -
How To Build Stairs
Next -
Building guard railing