Cutting Stair Parts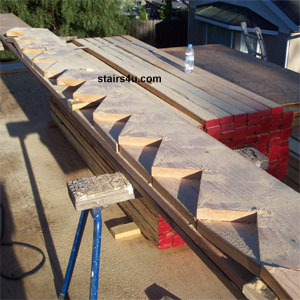 I like to use a circular saw and have been using a Skil saw, my entire career as a stair builder. You don't need to use a Skil saw, but you will need some type of circular saw, unless you don't have any electricity or want to do things the old-fashion way.

If you have a table saw, radial arm saw or even a miter saw and wish to use them, on your stair building project, then go for it. Some of these tools can increase the accuracy of your cuts and truly create a spectacular staircase.

Another tool I like to use is a reciprocating saw. This type of saw comes in handy, especially in tight areas, where most circular saws, either can't reach or won't fit.

The most important stair cutting tip I can think of would be using a sharp saw blade. Dull saw blades can create inferior cuts and make the tools harder to operate, safely. That's actually how I cut my thumb off when I was an apprentice, but don't worry, it's back on and usable.

Last but not least, make sure that you follow your power tool instructions. It would be a waste of your time, to get injured, while building your stairway.

Construction safety usually isn't anything more than common sense.
Back To - How To Build Stairs
Next - Cut Stringer