Can I Attach Stair Stringers To Brick or Block Walls?
Yes, you can attach metal stair stringers to a brick or block walls, but I don't recommend attaching wood stringers unless you're going to use some type of waterproofing membrane to cover the building exterior and stairway.


What About Treated Wood?
Again, if there was some type of waterproofing that was going to be used to protect the wood, then go for, otherwise, it would be better to keep at least a three-quarter inch space between any wood and brick, block or concrete.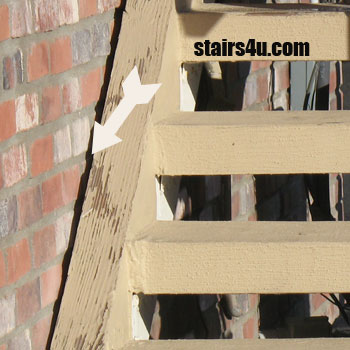 If you are planning on placing a wood stairway next to a block, brick or
concrete
wall, don't forget that the wall might need to be finished, before the stairway can be placed into its proper position.
This could create problems during construction, because there would be no way to access the second floor, while working on the building. If this is the case, a temporary stairway could always be built.
Back To - Building Stair Questions
Back To - Stair Stringer Questions And Answers

Feel free to email us with your questions. (Go to bottom of page and click on contact for email address.)